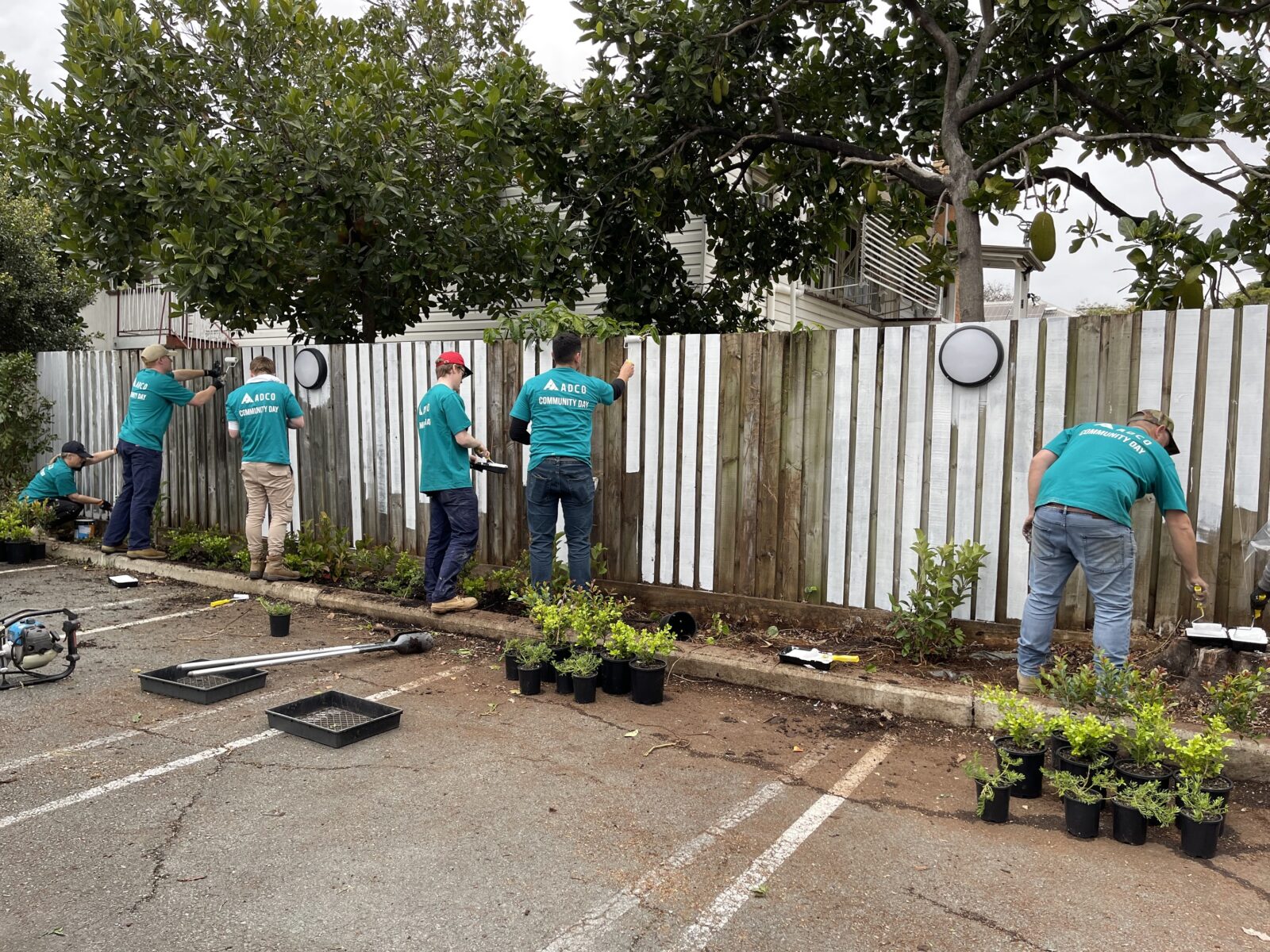 QLD staff step out and help the community
ADCO's QLD team took the day away from their desks and sites on Monday for their annual Community Day, having spent the last few months planning donations of materials and labour with organisations.
Our Community Day teams helped a number of significant community organisations (Salvation Army, Wedgetail Retreat, Bric Housing, Womens Legal Service QLD, Royal Brisbane & Womens Hospital Foundation and Sporting Wheelies), with projects varying from landscaping, painting, creating outdoor courtyards, building a kitchen, external screening and tidying up properties.
150 ADCO staff and trade partners contributed an estimated 1500 hours across these projects – almost $250,000 worth of time, materials, plant and equipment was contributed by our people and our project partners on the day, for which the six organisations were incredibly grateful.
Well done to all for participating on the day and putting in a huge effort. We give our most heartfelt thanks to all our trade partners who donated labour and materials. Last but not least, a big thank you to our team leaders for your hard work to make the day a success!
Thanks to our trade partners for their time, labour, equipment and materials donations on the day:
FT Solutions
Dulux
Dansea Constructin Products
Haines Electrical
Penfold
RPE Electric
Usher
Auscoast
Veolia
Lifestyle Commercial Flooring
Zero Asbestos
Violia
Signs of Safety
Bunnings
Resolve
Allroads
CV Services
Brown Steel
Dewpoint
Penfolds Projects
Bluesky Nursery
Yatala Formwork
Neumann Steel
HRC Contracting
Harvey Norman Commercial
Resolve Electrical
Beavis & Bartels
Darren Slater Painting
Jolex Group
Bennett & Bennett
Locker Group
PTAS
BWS Waterproofing
Damon Constructions
Impact PT
SPL
Oakdale
A1 Skips
Shamrock
City Hire
Lyndons
Ikon
Group GSA