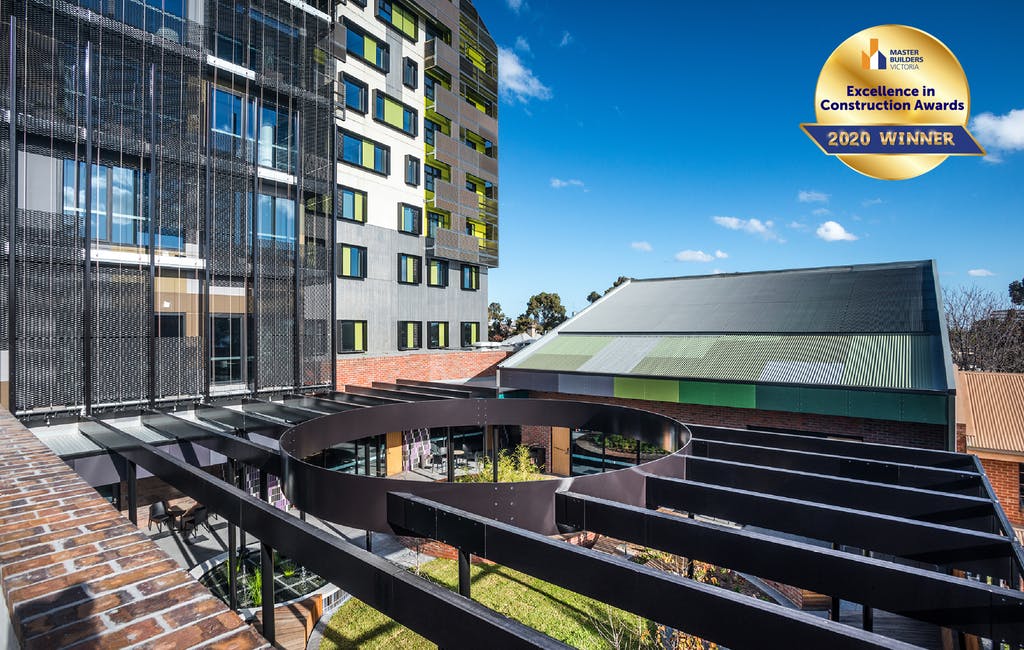 Two More Prestigious MBA Awards Won in Victoria
ADCO is delighted to have won the 2020 Master Builders Association of Victoria Excellence in Construction award in the categories 'Commercial Buildings: $20 million to $30 million' for the state-of-the-art Caulfield Grammar School Aquatic Centre and 'Commercial Buildings ($30 million to $80 million)' for construction of the 10-storey Ozanam House in North Melbourne.
The $25 million sports and aquatic project involved construction of the eye-catching, new Caulfield Aquatic Centre at Melbourne's Caulfield Campus. The works consisted of a 50-metre competition pool with boom, movable floor and diving area, spectator seating, function rooms, amenities areas, new lifts and multi-purpose exercise rooms.
The largest homeless facility in Australia, Ozanam House offers 134 rooms, a medical clinic with dental care services, gym, café and a learning and tech hub with free WiFi and cloud storage. ADCO was proud to have delivered the unique facility, which now functions to provide flexible accommodation options as well as health and well-being services in inner Melbourne to people experiencing homelessness.
This is the second year running that ADCO has won an MBA award for Caulfield Aquatic Centre. ADCO congratulates the project team and partners for their achievement and we are thrilled to be recognised for these honours!