WHO WE ARE
WITH NEARLY 50 YEARS' EXPERIENCE, ADCO IS ONE OF THE OLDEST AND MOST ESTABLISHED CONSTRUCTION COMPANIES IN AUSTRALIA. WE ARE AUSTRALIAN OWNED AND ARE HUGELY PROUD OF OUR HERITAGE.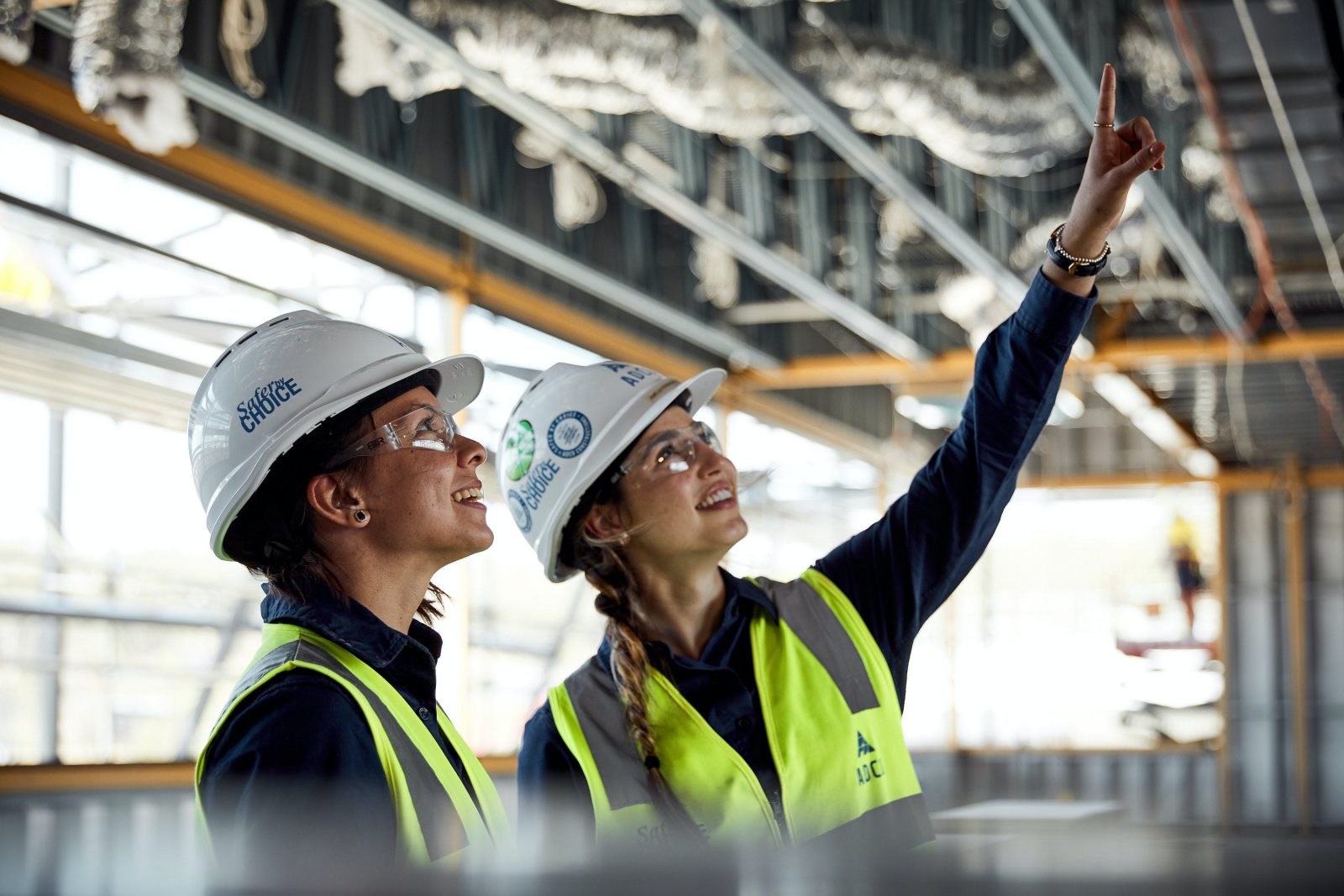 OUR STORY
SINCE OUR BEGINNINGS IN 1972, ADCO HAS BEEN STEERED BY FAMILY VALUES, TRUST AND HONESTY.
From day one we have been committed to quality delivery, to our clients and to our people. These foundations have built our legacy – over 3,500 projects valued in excess of $14 billion. Our people are now 500 strong and growing as they deliver annual revenues approaching $1 billion. We are proud to be one of the top 100 private companies in Australia.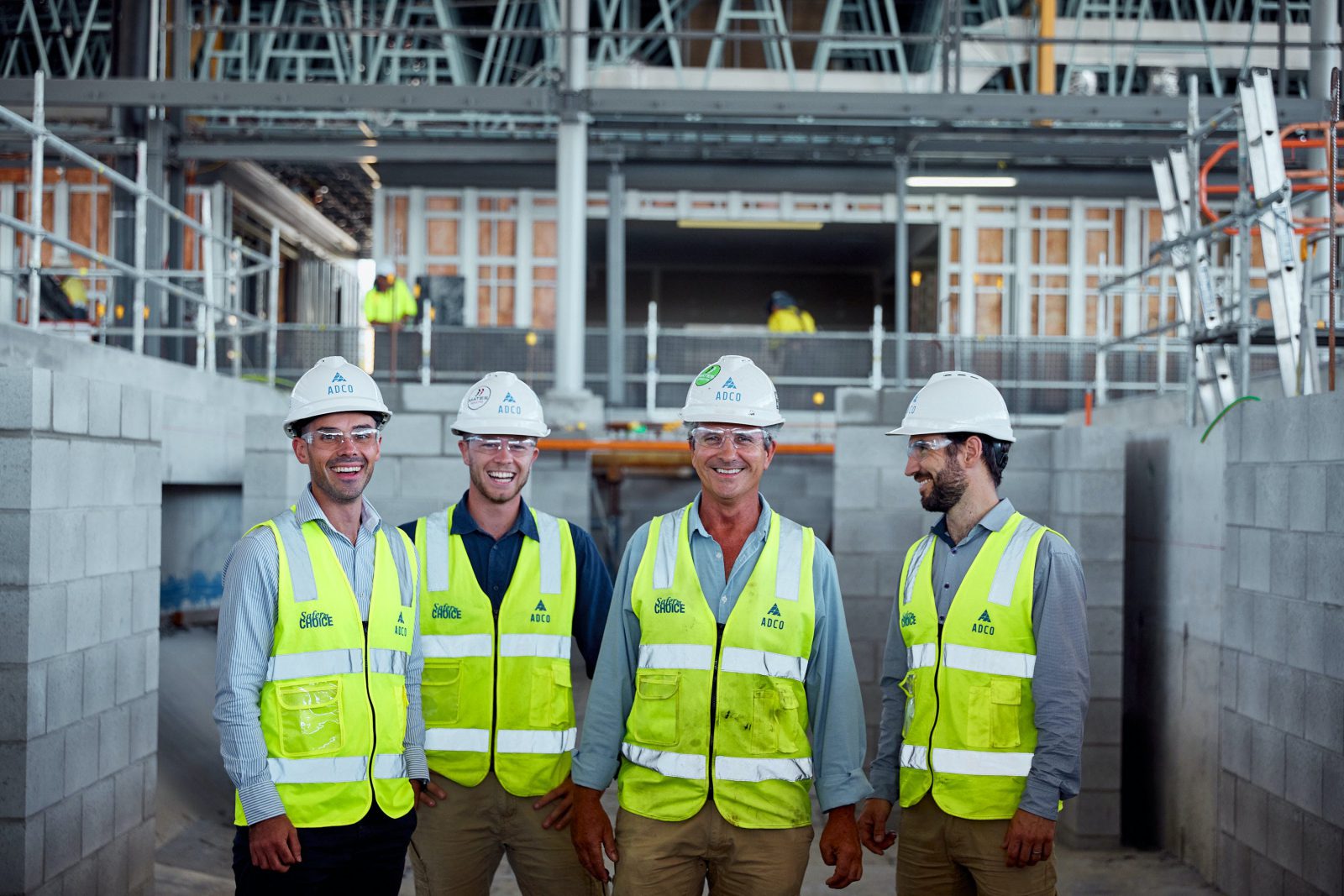 BUILDER OF CHOICE
ADCO ASPIRES TO BE THE BUILDER OF CHOICE FOR OUR CLIENTS, OUR CONSULTANTS, OUR CONTRACTORS AND OUR PEOPLE.
Everything we do is underpinned by our core values of responsibility, dynamism and teamwork.
We are responsible and deliver on our promises, we are dynamic and bring energy to our projects and we work as a team to achieve shared goals. This means your project gets finished on time, on budget and to the highest standards possible. Always.
The ADCO Way is the name we give to the fusion of our values with market-leading client service and high-quality project delivery. The ADCO Way is embedded in our DNA. It's the way 'people who build' go to work.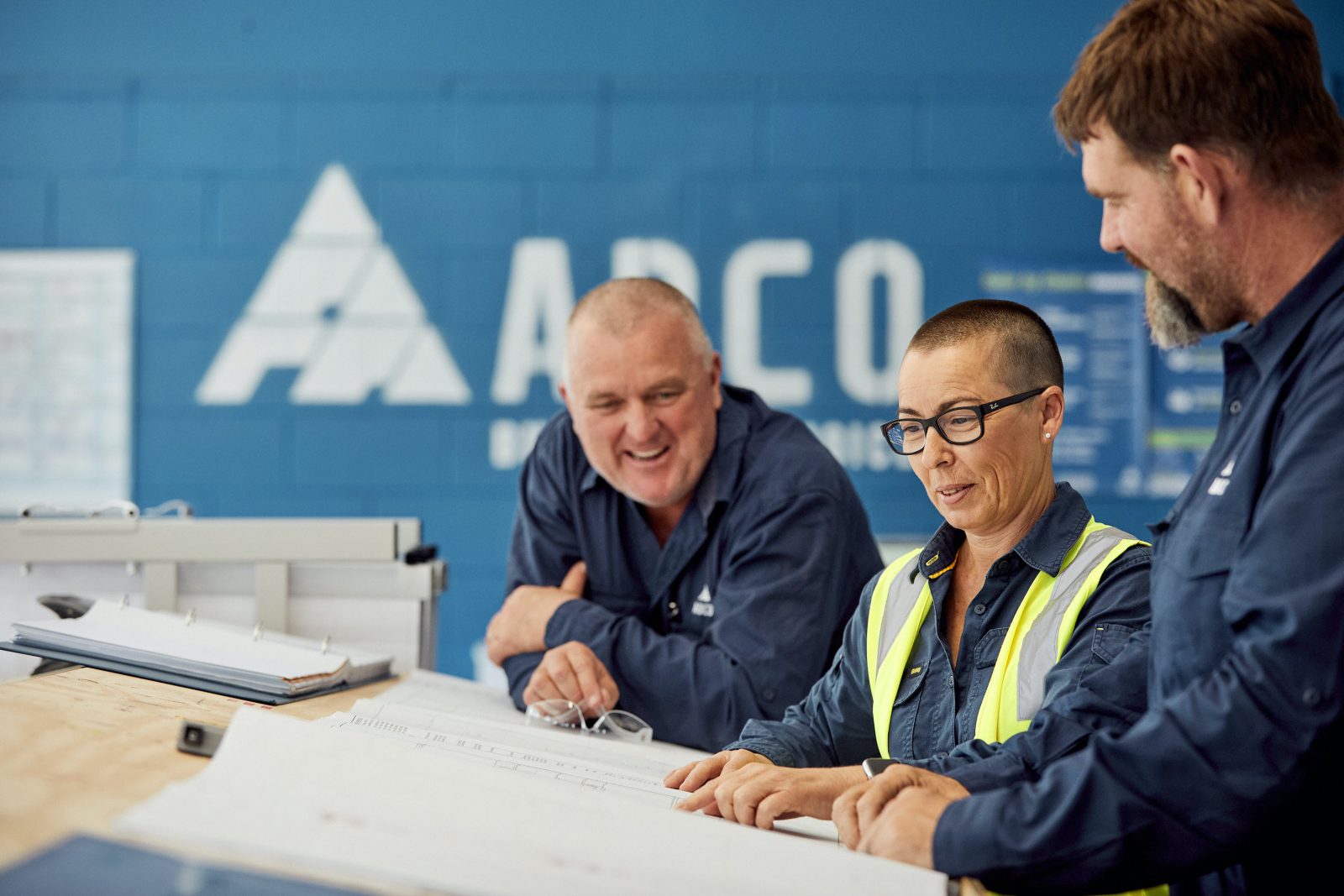 FINANCIAL STRENGTH
FINANCIAL SECURITY IS ONE OF THE MOST CRITICAL ELEMENTS TO CONSIDER WHEN APPOINTING A CONSTRUCTION PARTNER.
ADCO provides financial surety for our clients and their financiers. We maintain a policy of profit reinvestment and working capital management to ensure our balance sheet remains commensurate with the size of our business. ADCO exceeds the financial requirements for licensing in each state and territory, for private and government projects.
We have strong cash and liquid asset reserves and a blue-chip client base, which translate into consistent cash flow and profitability. Our audited financial statements are available on request.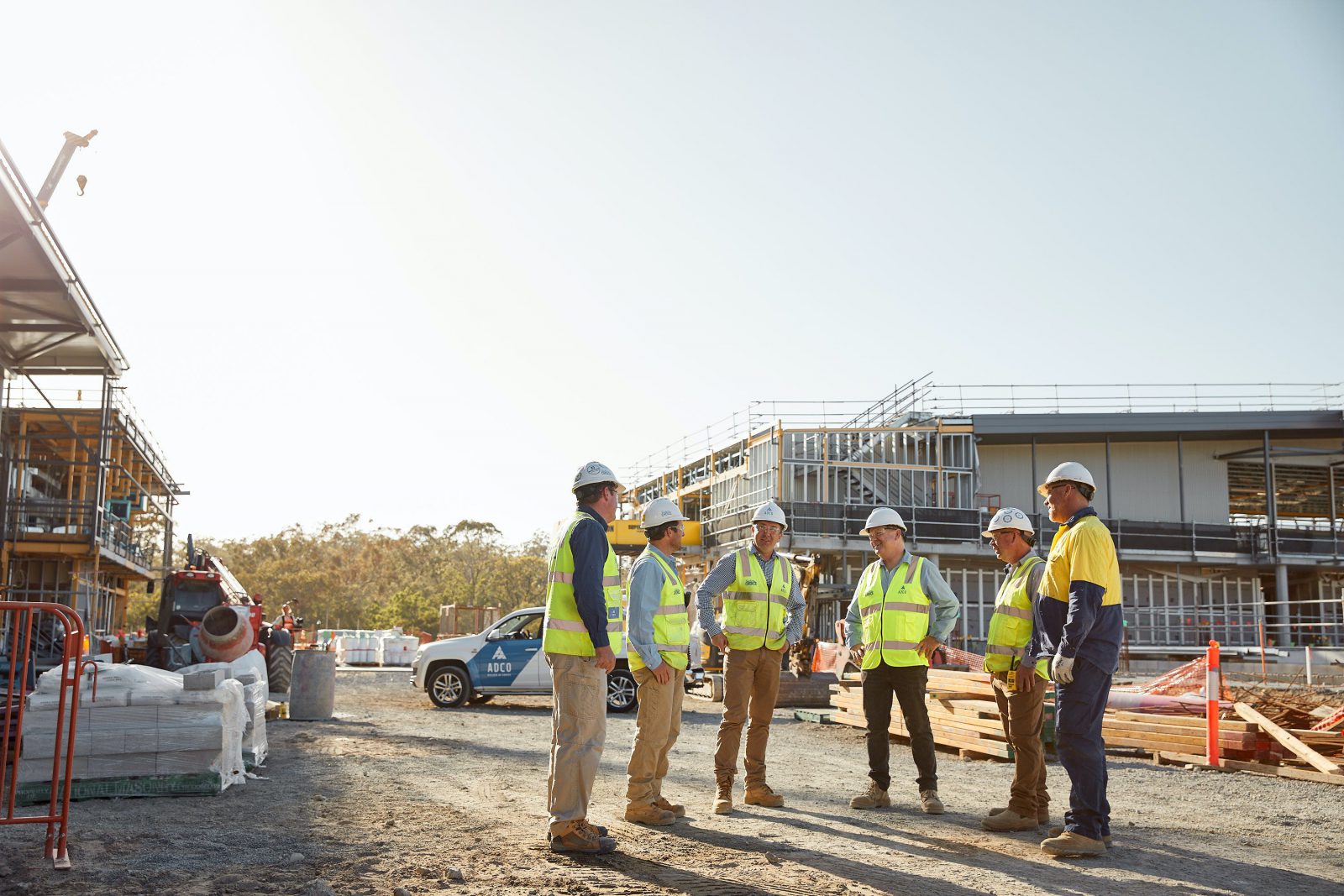 OUR CAPABILITIES
ADCO HAS A NATIONAL PRESENCE WITH OFFICES THROUGHOUT AUSTRALIA.
The scope of our service, depth of experience and the quality of our people has positioned us at the front of the pack.
Our continued success lies in the strength of our client base and the diversity of the sectors we work in. We retain high levels of repeat business from long-established client relationships amongst key private and institutional corporates, as well as federal, state and local government agencies.
Our award-winning capabilities extend across the retail, education, commercial, government, health and aged care, leisure, aquatic and community markets. Our projects are delivered via early contractor involvement, design and construct, managing contractor, and traditional construction methods of procurement.
Our national presence ensures we can deliver projects from $1 million to $200+ million anywhere in Australia. ADCO offers a holistic solution tailored to the exact needs of our clients.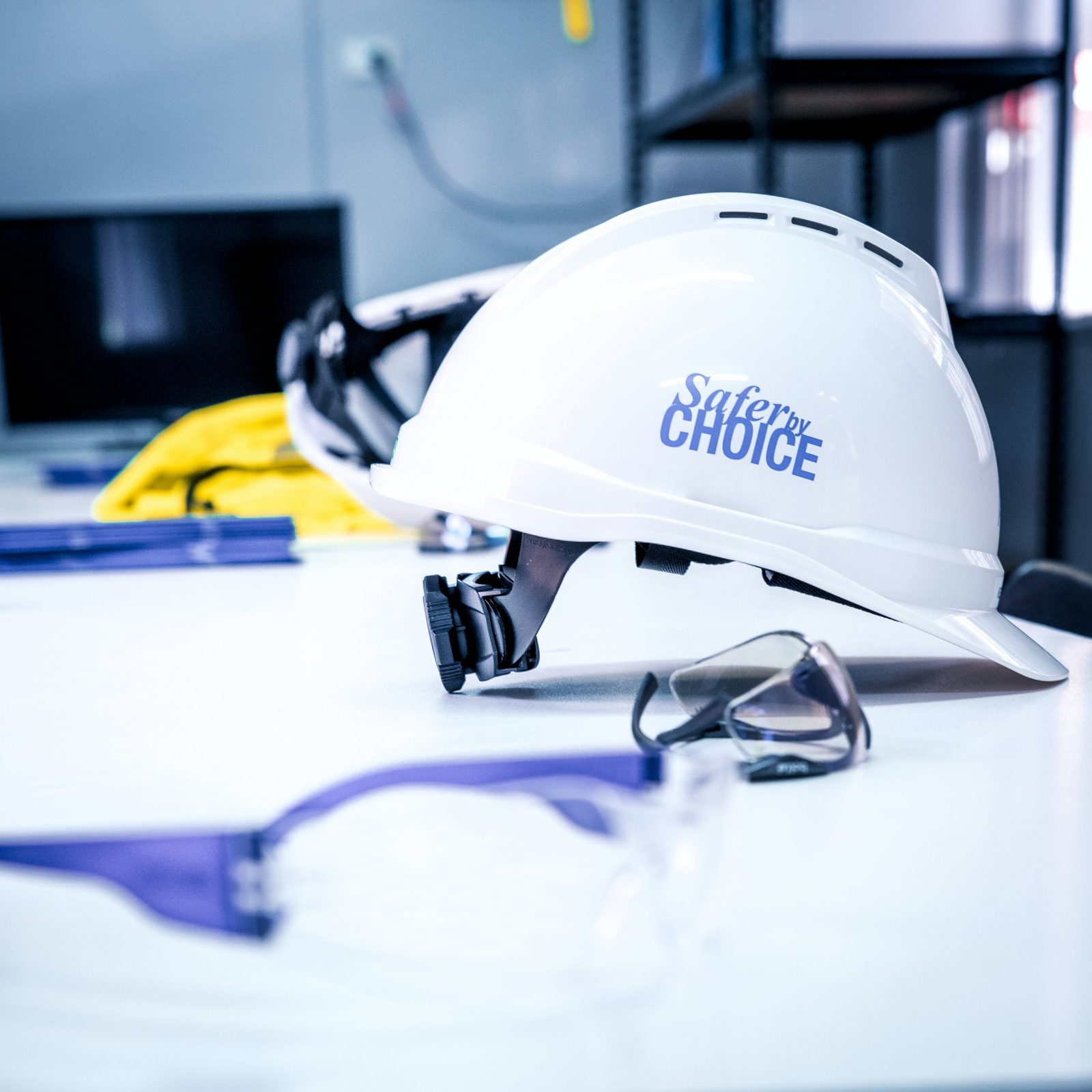 SAFER BY CHOICE
IT IS OUR COMMITMENT TO ALWAYS ASK 'IS IT SAFE, OR IS THERE A SAFER CHOICE?'
'Safer by Choice' is the philosophy of taking personal responsibility, careful safe decision-making, and being aware that each person can improve safety, by choice.
At the core of Safer by Choice is a recognition that each person involved in the design and delivery of a project is a decision maker, from the design consultant and estimator through to the landscape worker putting the final touches in place.
Establishing a successful safety culture takes a commitment to the long term. Protecting it is the role of all ADCO employees, guided by the leadership team.
Additionally, ADCO does not set zero targets for Lost Time Injuries – our leadership looks at safety differently. Safer by Choice targets attitude change towards safety.
We believe that fewer incidents, fewer injuries, lower LTI's and early return to work are positive outcomes. But we also recognise that too heavy an emphasis on statistical frequency rates and zero targets can lead to reduced incident reporting.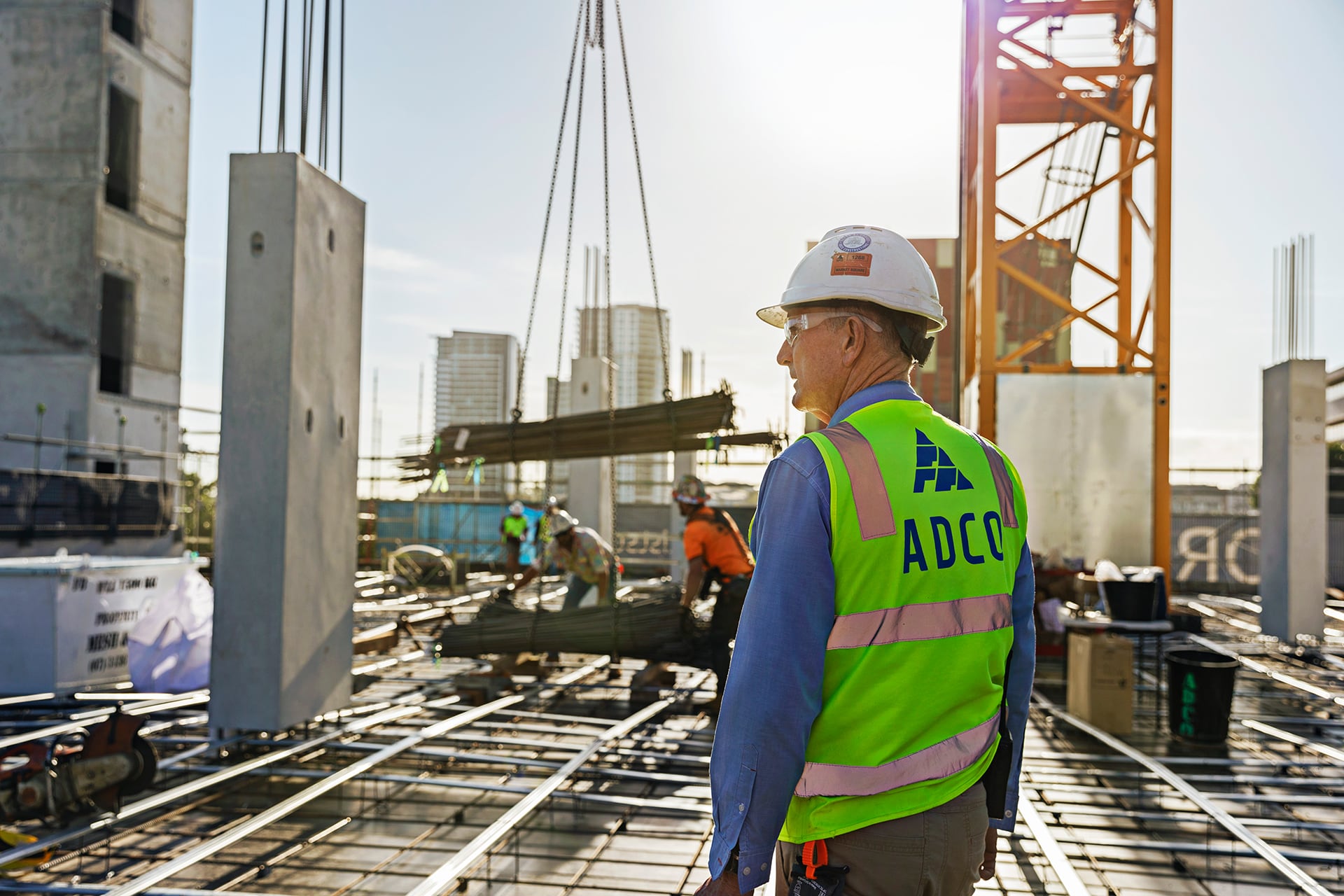 Accreditations
Health & Safety Management

Our health and safety management system is independently certified by third party auditors as compliant with ISO45001:2018 (Occupational Health and Safety Management Systems).

Environmental Management

Our environmental management system is independently certified by third party auditors as compliant with ISO 14001:2015 (Environmental Management Systems).

Quality Management

Our quality management system is independently certified by third party auditors as compliant with ISO 9001:2015 (Quality Management Systems).

Federal Safety Accreditation

ADCO complies with the Australian Government's National Code of Practice for the Construction Industry and is accredited with the Office of the Federal Safety Commissioner.

Green Buildings

ADCO is a proud member of the Green Building Council of Australia and committed to the success and increased adoption of sustainable construction practices.

Diversity Council Australia

ADCO is a proud member of the independent, leading body of diversity and inclusion in the workplace, who provide research, programs, resources and expert advice across all diversity dimensions.

Master Builders Association

As a Master Builders Association Member, ADCO is a trusted organisation of a community of builders who meet regularly at a local and national level.

Supply Nation

ADCO is committed to increasing Indigenous Participation in our projects both through direct employment and procurement of goods and services.